Lord have mercy. I honestly cannot begin to express how crazy delicious these low-carb spinach and artichoke chicken thighs are. Spinach and artichoke go together like the moon and the stars. You toss in some thick, juicy, crispy-skinned chicken thighs to the party and you've got yourself a culinary moment worth pausing for. I highly recommend you serve this with cauliflower rice or regular rice. The way those lil morsels just soak up that insanely decadent sauce…just..*chefs kiss*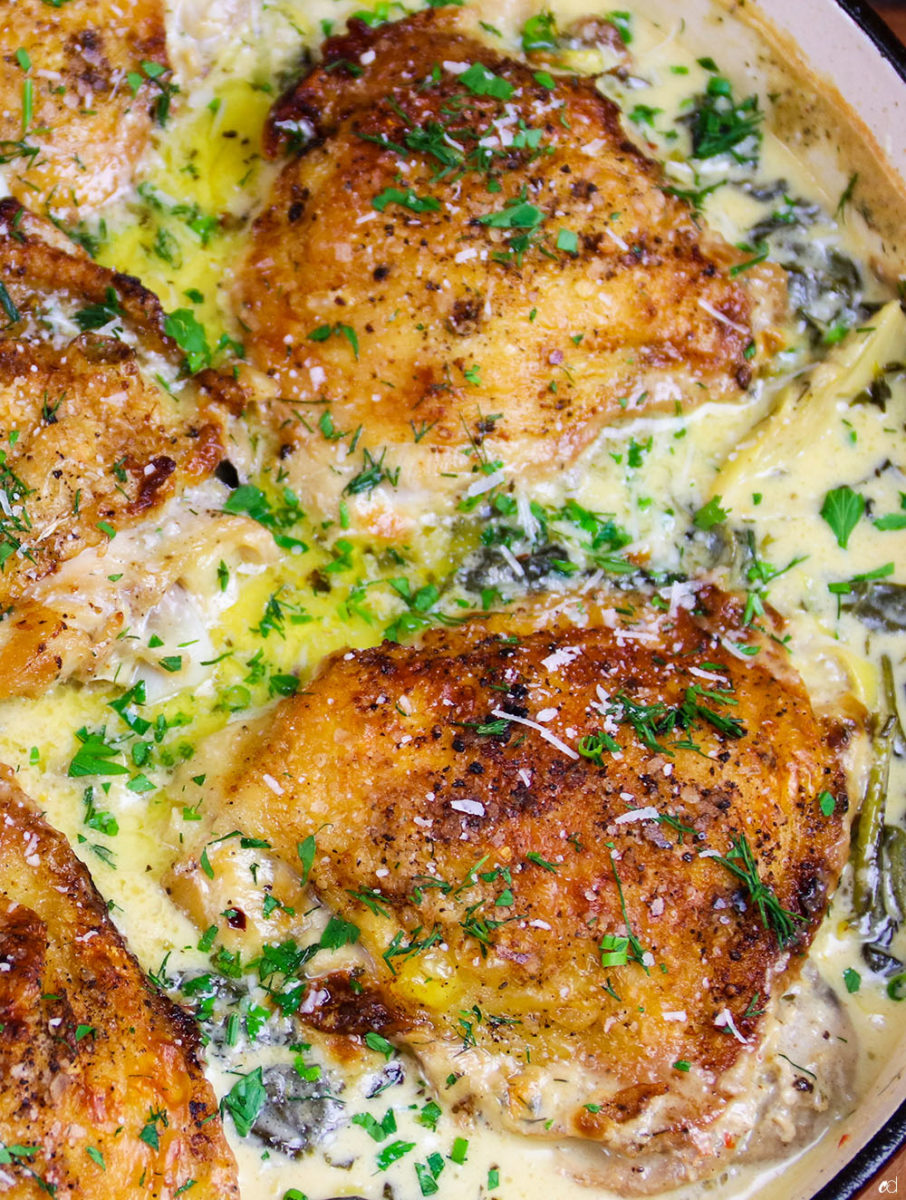 Tips on Reheating
So, boom — I ate one piece initially. Then later that night, I went back for another serving. The skin wasn't crispy anymore because it had been in the fridge, and yanno, condensation. Microwaving it would only get it hot, but it wouldn't give me that same crispiness the oven gave me from jump. Insert the air fryer! I absolutely looooove reheating roasted chicken (and damn near everything else) in my air fryer. It just gets it right and doesn't overcook it — so long as you keep an eye on it. Anyway, my chicken reheated p-e-r-f-e-c-t-l-y, and I sat it on top of some delicious cauliflower rice with more of that amazing sauce…I cussed, it was so good!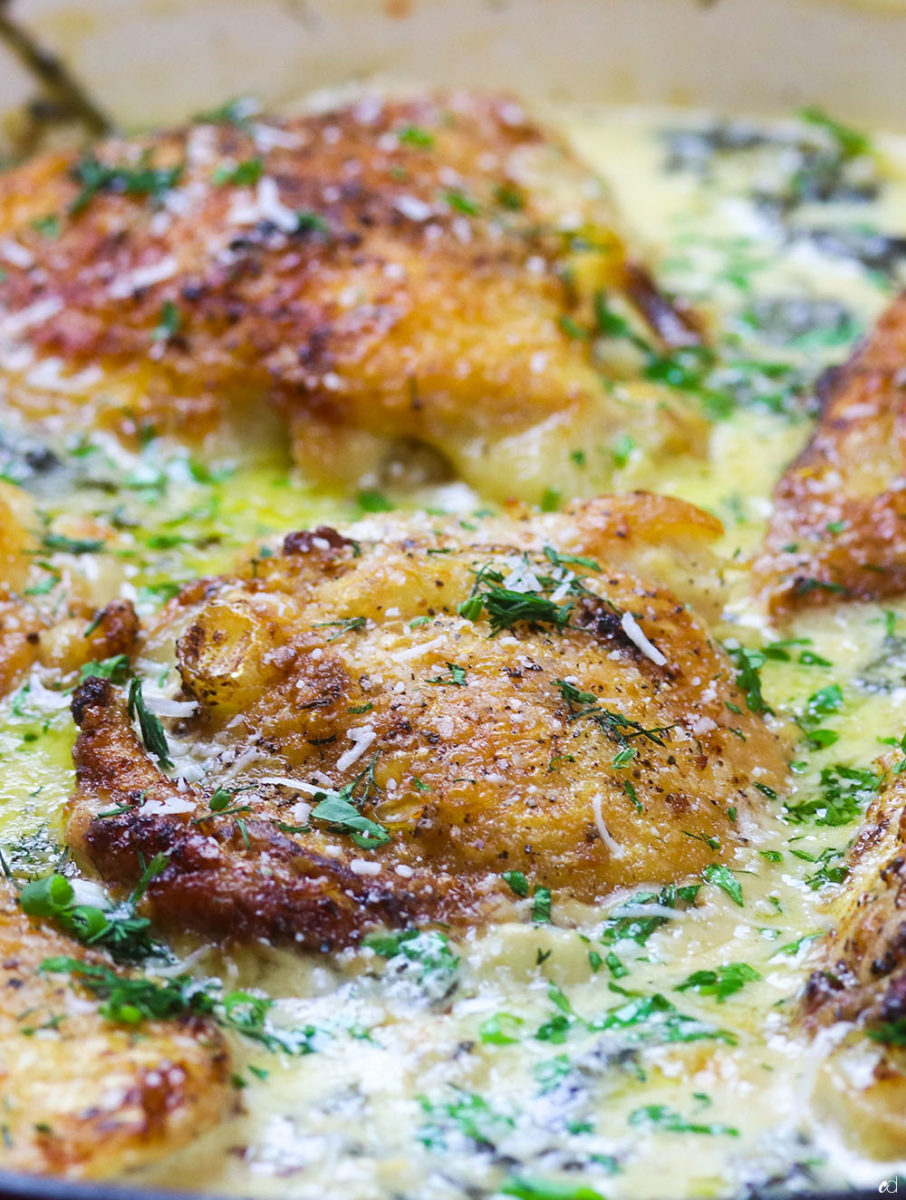 This meal is low carb and keto-friendly. We're using high-quality fats and cheeses, and not skimping on flavor. I'm not able to provide net carbs for this, because there's truly no way to calculate a serving size. It all depends on you. You may only want a little of the sauce, or you may want a lot. Your thighs may be bigger than mine (heh), or smaller. Overall, we're using low-carb, keto-friendly ingredients. Just try to avoid eating all of it if you're in a calorie deficit (and that goes for any diet).
But Resha, these ingredients…
Let me tell you, if you don't have a particular ingredient for this dish, please do not freak out. A lot of times, I try to use up whatever I have lying around before it shrivels up and dies in my fridge — especially herbs. I also had a poblano pepper about 3 days from rotting into a green bean, so I chucked that in as well. Totally leave the poblano out if you don't have it and don't wanna have to go buy it. As long as you have the main players, this will turn out fantastic.
How to Make Spinach Artichoke Chicken Thighs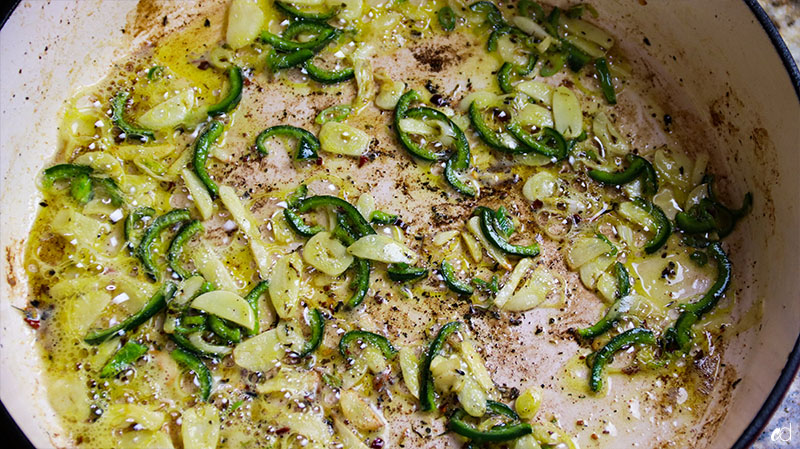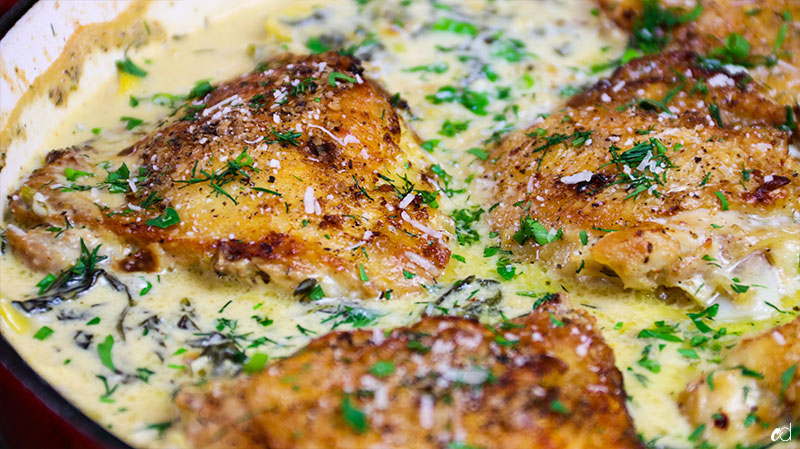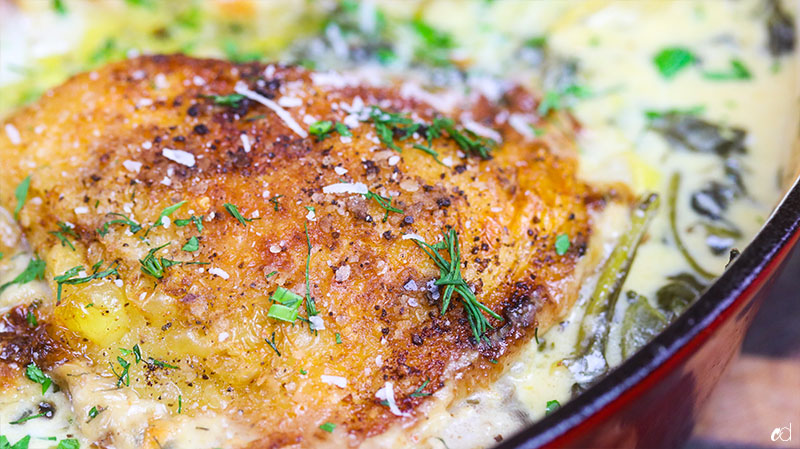 You're gonna love this, no matter what kind of diet you're on.
Check out more yummy recipes:
Print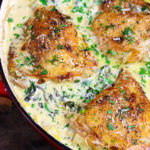 Spinach and Artichoke Chicken Thighs
---
Author:

Chef Resha

Total Time:

1 hour 15 minutes

Yield:

6 to 8 servings
Description
Crispy-skinned chicken thighs, swimming in a lusciously creamy, cheesy spinach and artichoke bath. So dang good. You don't have to use every fresh herb listed here. I tend to use whatever I have lying around.
---
6

–

8

large chicken thighs, trimmed of excess fat and skin
Flaky kosher salt, to taste
Black pepper, to taste
herbs de provence, to taste
onion powder, to taste
garlic powder, to taste
crushed red pepper flakes, to taste

2 tablespoons

olive oil

2 tablespoons

butter

6

to

8

cloves garlic, thinly sliced

2 tablespoons

poblano peppers, thinly sliced (optional)

2 teaspoons

fresh thyme

1/2 teaspoon

fresh rosemary

2 tablespoons

fresh parsley, finely chopped

2 tablespoons

fresh chives, finely chopped

1

scallion, finely chopped

1 tablespoon

fresh dill, finely chopped

1

cup

heavy cream

1

cup

chicken stock

8

ounces

of cream cheese

9

ounces

of fresh spinach
1

14

–

ounce

can quartered artichokes (SEE NOTE)
Zest from

one

lemon, plus juice from half a lemon

1/8 teaspoon

freshly grated nutmeg (SEE NOTE)

1

cup

pecorino or parmesan cheese, finely grated
---
Instructions
Equipment used: Braiser dish
Preheat oven to 425 degrees F.
Season the flesh side of the chicken thighs with flaky kosher salt, black pepper, herbs de provence, onion powder, garlic powder, and crushed red pepper flakes. Massage the seasonings into the meat. Flip the chicken over and pat the skin dry with paper towels. Season the skin with flaky kosher salt and black pepper. Drizzle about a teaspoon of olive oil total over all the chicken thighs. Chicken thighs are very fatty, so they do not need a crazy amount of added oil.
Set a large oven-safe deep-sided skillet or braiser over medium heat. When the pan is nice and hot, gently place each chicken thigh skin-side down. Allow the skin to brown and crisp, about 8 to 10 minutes, then flip to cook the flesh side. The chicken will be ready to flip when it's no longer sticking. There will be a lot of rendered fat in the bottom of the pan. Cook the chicken on the flesh side for about 6-8 minutes longer, then transfer the chicken to a plate to rest while you make the sauce. Do not cover the chicken, we don't want the skin to get soggy. The chicken is not done at this point but will continue to cook in the oven later.

Drain all of the rendered fat from the skillet and return to medium heat. At this point, much of the rendered fat has lots of scorched bits, so let's just start with fresh fat.
Add in a nice drizzle of olive oil, and a pat of butter. When the butter begins to sizzle and foam, add the sliced garlic, scallions, and poblano peppers (if using). Season with kosher salt, crushed red pepper flakes, and black pepper. Sauté until softened, about 3 minutes or so. Add a good pinch of herbs de provence, fresh thyme, and fresh rosemary. Stir to infuse, about 30 seconds.
Next, add the drained artichokes and stir to scoop up any browned bits from the bottom of the pan. Heat the artichokes through, about 2 minutes, then stir in the fresh chives. Pour in the chicken stock and heavy cream. Add the cream cheese in small pieces so that it melts a little easier, the lemon zest. Taste and adjust seasoning, adding more garlic powder, kosher salt, and black pepper if needed.

Bring the mixture to a gentle simmer over medium heat to fully melt the cream cheese and allow it to thicken up a bit. It won't be gloopy, but it should be a nice gravy-like consistency. This will take anywhere from 5 to 10 minutes or so.

Squeeze in the juice from half of a lemon. Toss in the fresh spinach and gently stir to submerge. Add the grated pecorino cheese, along with the freshly ground nutmeg. Stir to combine. Next, stir in the fresh parsley, fresh chives and allow the mixture to continue to simmer for an additional 5 minutes. Taste and adjust seasoning as needed. At this point, I determined mine needed a good amount of onion powder, but do what you want with yours.
When the mixture is thickened to your liking, gently arrange each chicken thigh inside, making sure to keep as much of the crispy skin exposed as you can. Place the entire dish in your preheated oven and cook for about 10 to 15 minutes. This will allow the chicken to continue cooking through, as well as blend all of the flavors together. When the chicken is thoroughly cooked (an instant-read thermometer should register 170-175 degrees when inserted in the thickest part of the chicken), remove the dish from the oven and let it rest for 10 minutes. Garnish with additional grated cheese and fresh herbs.

Serve with cauliflower rice, regular rice, or potatoes. Enjoy.
Notes
You can use frozen (thawed) artichokes. If using canned or jarred, make sure they're packed in either brine or water, NOT an oil.
If using finely pre-ground nutmeg, use just half of what's called for. It's much more finely ground than if you were to grind it yourself, and you don't want it to overpower the dish. If grating your own nutmeg fresh, use 1/8 teaspoon.
Prep Time:

30 minutes

Cook Time:

45 minutes

Category:

Low Carb, Keto

Method:

Braising
Keywords: spinach artichoke chicken thighs, braised chicken thighs, chicken thighs, keto, keto-friendly, low carb
Recipe Card powered by
Disclosure: This site uses various affiliate links. If a purchase is made using one of our affiliate links, we receive a small commission which helps support our efforts. Please read our
Privacy Policy
for more information.